The 15
th
staging of the Portland Jerk
Festival has been announced for
Sunday, July 5,
slated for the
scenic Heritage Site at Folly Grounds in Port-Antonio. The 2015
staging of event will be sponsored by Best Dressed Chicken and is
sure to please local and international food lovers with a healthy dose
of jerk cuisine complemented by music, arts and quality
entertainment.
This year the festival will feature local chefs putting their own spin
on
classic jerk dishes as well as
gourmet
presentations. The festival
will also feature internationally renowned Chef Judson Todd Allen
also known as the 'Architect of Flavour', who is expected to give his
own take and ideas about Jamaica's infamous jerk flavour. Allen is
widely known and respected in the world of culinary arts for his
mission to get people thinking innovatively about healthier foods
with bold flavours. The Portland Jerk Festival is expected to give him
another platform on which he can speak, as many Jamaicans would
know, jerk is bold.
The festival continues to attract visitors to the North-Eastern coast
of the island for a melting pot of Jamaican culture, with the main
attraction being the jerk cuisine. Portland also provides a unique
edge to the festival as it is considered the birthplace of jerk and complements the cultural offerings with a venue that overlooks the Caribbean Sea.
"The Portland Jerk Festival is an event which has always sought to capture the Jamaican culture and package it in a way that patron scan appreciate and enjoy thoroughly. This year will be no different,the cultural experience will be in every facet of the festival from the venue overlooking the sea to the music and entertainment and most definitely the food, which is after all, the main ingredient of the festival," said Kasey Bourne of 20/20 Vision Foundation, organisers of the Portland Jerk Festival.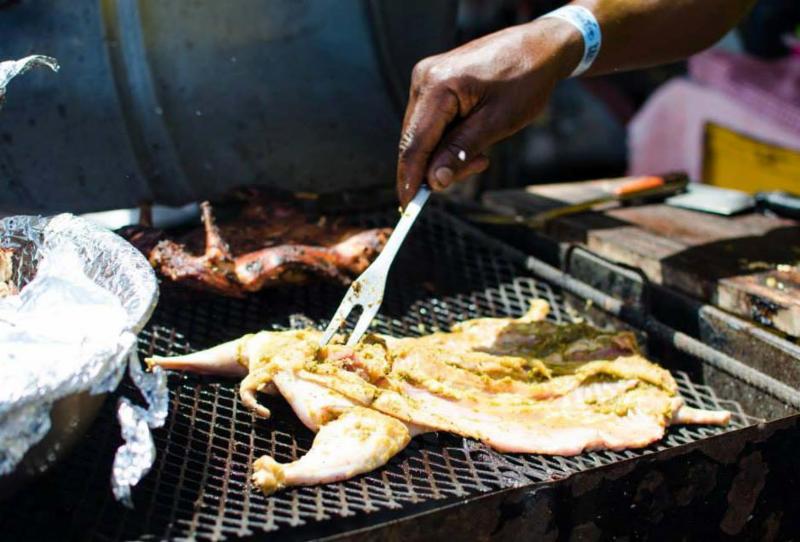 The Port
land Jerk Festival has offerings for the entire family and as
such, is tailored for all generations. In addition to clean family
entertainment the festival will also provide attractions for youngsters
with a kiddie's village. The village is expected to be stacked with over
20 rides and child oriented activities to keep the little ones occupied
throughout the day.
"It is a family event and we want to encourage patrons to take their
entire family including the children, as it is important for our
youngsters to be engaged in our culture from an early age. We will be
catering to all generations with the food, arts and entertainment,"
concluded Bourne.