Good Friends Gather for
Good Times Retro University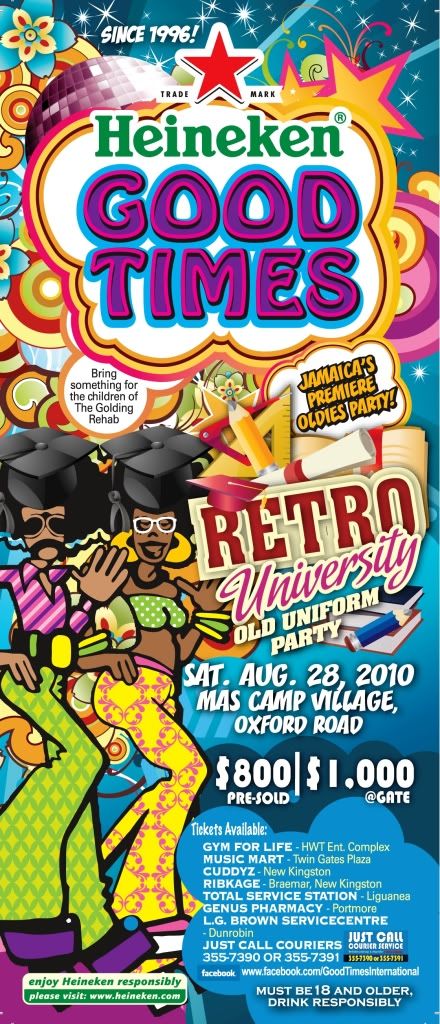 Good Times is set to stir good memories at the Mas Camp on August 28. The summer edition of the popular Good Times party series hits Mas Camp just before the back-to-school season and thus is aptly themed, Good Times: Retro University. The Saturday, August 28 event is likely to reunite friends anxious to relive that last fling before buckling down for the new academic year.
The Quorum, producers of the long running party series, have promised a special surprise for this staging, but won't reveal the secrete. "We have built a reputation on delivering the best music and we have never revealed the details on the music prior to the party; no need to start now," said The Quorum Executive Member Jerome Hamilton as he deftly avoided the question. In the past, Good Times has been know to import DJ, have live performers and combine the hottest young

DJ's

with experienced "

turntablists

". Regardless of who will eventually take the spotlight on the late August night, history suggests they will be good.
Moving from the stage to the bars, Good Times regulars are familiar with the large, easy access bar set up. Multiple well stocked bars with well trained professional staff are being constructed around the venue for the convenience of the patrons. Heineken Bucket Deals mean fewer trips to the bar and more time on the dance floor.
Pulsating music and flowing Heineken are trademarks of Good Times, but so too is the Sir John Golding Rehabilitation Centre. Since the first party in May 1996, The

Quroum

have donated part proceeds from the series to the upkeep and development of the facility formerly known as Mona Rehab. Residents of the facility are often in the crowd rocking to the music of "19 something" alongside the patrons that make the donations possible. Good Timers are also encouraged to bring gifts for the children at centre. Items left in the drop box at the gate are gathered and delivered to the only facility of its kind on the English speaking competition.
Tickets for the party can be picked up in advance for $800 at locations such as Gym for Life, Music Mart,

Cuddyz

, Total Service Station, Genus Pharmacy, and L.G Brown Service Centre. A delay will lead to a $1,000 fee at the gates, which open at 9 PM. In association with party sponsors Mack D's Auto Sales, and Just Call Courier Service, Heineken Good Times take place at Mas Camp in Kingston on
Saturday, August 2
8
.