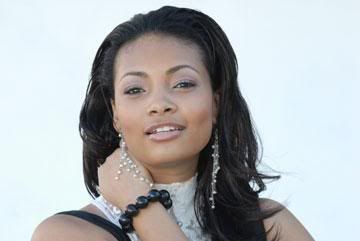 "Young, sexy and single", all describe songstress Timeka, but her recent collection of producer collaborators would start with "talented".

While in Jamaica recently, Timeka hit the studios hard. The result: a collection of radio friendly tracks due for release this summer. Veteran producer, Clive Hunt worked closely with Timeka to develop three very distinctive tracks. The up-tempo, free spirited Free is the first of these tracks to be serviced at radio.

Timeka also collaborated with Stephen McGregor, widely referred to as "The Genius". Stephen exploited her dynamic range, first exploring her smooth side with the lovers' rock inspired Try Again, then swinging it from the opposite end, with the club banger Get Some Air.

Her musical mission continued with mainstream producer Colin "Bulby" York and newcomers Equinox music to develop her "Caribbean vibes with international appeal". She can also count Devonte (of Tanto Metro and Devonte), Dean Mundy and Don Corleon as collaborators.

In between her recording sessions, Timeka graced many stages at events across the island. Her midriff bear, she sang in stage in Negril at Jamfest; dressed in Jamaican colours Timeka hit the stage at Smile Jamaica in St. Ann; and clad in the ever-sexy black she showed her groove at the Campion High School Barbeque. During her performances in Guyana, Timeka's catalogue of songs included, We Shall Separate and Nothing At All – which was well received both on radio and television airwaves.

With an impressive assortment of recordings and concert appearances, Timeka caught the eye of local media. She was featured in the popular afternoon tabloid, Chat and performed live on TVJ's Smile Jamaica.

Currently, Timeka is back in Guyana for a brief rejuvenation and to complete contracted duties for her local telecom sponsor. Upon her return to Jamaica in early summer, Timeka will embark earnestly on promotion of her new singles. "Success is not easy," she wisely asserts, "but with time, energy, dedication and hard work, it will come."


Source: Headline Entertainment