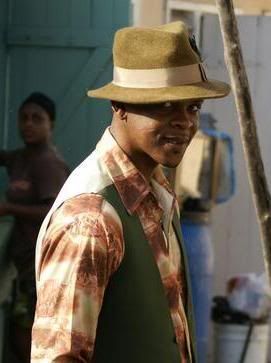 After recently performing before thousands of diehard U.S. college fans on the Irish and Chin produced Campus Rave tour, Mr. Vegas has returned to the dancehall scene with a vengeance and three new steamy videos in tow.

As if dancehall artiste Mr. Vegas couldn't get any hotter in 2008, he just wrapped up the production of a video for his newest single Daggering. On this sizzlin' track, Mr. Vegas delivers piercing lyrics over the Remembrance riddim, produced by Kirkledove of Tek Weh Yuhself fame. Like its predecessor, Daggering is destined to spawn a dance craze. In addition to Mr. Vegas' Daggering, you can catch the recent and ever-so-popular Hot Gal Nuh Fight Ova Man and Mus Come a Road videos in heavy rotation on various television media outlets.

"Daggering is based on a dance...," said Mr. Vegas enthusiastically on the set of the video shoot. "It's a man and woman dance, in contrast to just an individual ting … everybody can get involved. We have taken this one way back and have modernized the Mento," added Vegas. "It's quite a different feel compared to the one million 'daggering' songs in the dancehall… "

The Daggering video was a creative project from hot-shot director Jay Will, the man behind loads of top-notch dancehall videos including Vegas' popular Tek Weh Yuhself and Hot Wuk. Daggering was shot at both the Caymanas Mineral Bath in St. Catherine and a dance/club scene was shot on location in Kingston.

Mr. Vegas is scheduled to soon wrap up the Irish and Chin produced Campus Rave tour with a final stop at UCLA. Soon after, he will jumpstart a Canadian tour, dropping in on several cities.

Mr. Vegas, dancehall's singjay, is clearly one of the industry's mainstays. He made his debut on the scene over ten years ago, with the break through hit Heads High. For over a decade, Mr. Vegas has kept up the momentum by entertaining fans with timeless hits. His most recent studio album Hot It Up, distributed by Delicious Vinyl, has been embraced by the massive. Notably, the racy single Hot Wuk landed on the Billboard charts. In August 2007, Mr. Vegas signed onto Irish and Chin, Inc. to manage his career.

Source: Garrick Communications