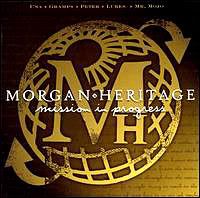 New York, NY - May 9, 2008
For the first time in Morgan history, the renowned reggae band scores the No. 1 spot on the U.S. Billboard Reggae Album Chart with their most recent release MISSION IN PROGRESS (April 15). Known for their riveting live shows, Morgan Heritage's 10th album captures the band bottling the power of its stage performance on disc and infusing its songs with a heavier dose of hip-hop. In addition to the album's skyrocketing sales, the positive reviews continue to roll in.
The Village Voice raves MISSION IN PROGRESS "showcases an evolved Morgan Heritage sound, lushly layered and as tightly made as a soldier's bed." According to All Music Guide it is "Rootz with "z" -- Mission in Progress has plenty to offer Damian or Stephen Marley fans or anyone who believes climbing the charts and uplifting the people are not mutually exclusive endeavors."
Produced by Morgan Heritage (with a few songs helmed by Shane Brown and Stephen McGregor son of reggae singer Freddy McGregor), MISSION IN PROGRESS lyrically finds the group continuing their quest to bolster their love for reggae music through romantic, street-wise and conscious songs built on slabs of spirituality. Musically however, MISSION IN PROGRESS is the realization of Morgan Heritage's "ROCKAZ" concept: reggae music with an edge.
The album's first single is "Raid Rootz Dance" a re-imagined and renamed cover of a Steel Pulse song ("Blues Dance Raid"). The release also features"Brooklyn and Jamaica", the group call's the first song to represent both the old neighborhood and their home for the past 11 years: Jamaica. Other standout songs featured on the album include the straight-up romantic track "Love You Right," the sublime funk-fueled anthem "Nothing To Smile About" and the golden jam "Faithful."
Comprised of five offspring of reggae veteran Denroy Morgan, Morgan Heritage is comprised of vocalist/keyboardist Una, vocalist Peter ("Jahpetes"), keyboardist/vocalist Roy ("Gramps"), rhythm guitarist Nakhamyah ("Lukes") and vocalist/MC/percussionist Memmalatel ("Mr. Mojo"). Born in Brooklyn's tough Bushwick neighborhood, the band's five members were raised in Springfield, Massachusetts, and spent their summer vacations back in New York's hippest outer borough, where they returned after high school. Raised with intensive vocal and instrumental training, the Morgan children were exposed to everything from the godfathers of roots reggae to top 40 American radio: from Duran Duran and Tears for Fears to Metallica and Van Halen The band signed to MCA Records in the 90's triggering one of the most impressive streaks in modern-day reggae since. In a dozen years, the band has racked up several hits in Jamaica and abroad, thanks in part to collaborations with such lauded Jamaican producers as Lloyd "King Jammy" James and Bobby Digital.
Morgan Heritage plans to announce US tour dates in support of the release shortly.
For more information on Morgan Heritage and press materials please go to
http://www.vprecords.com/index.php?page=vp1779sampler & www.myspace.com/morganheritage
Morgan Heritage "Mission In Progress"