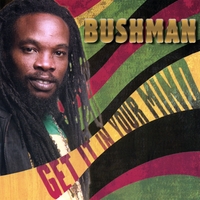 Get It In Your Mind, the eighth album recorded by singer and songwriter Bushman has been released since March 2008 and is poised to be a mega record selling success for the year. The independently released album on Bushman's record label, Burning Bush, is a thirteen track musical catalogue with a video enhancement track called Gun Ting.
With the release of the album and his superior vocal style and piercing lyrics, Bushman is slated to perform across the world for the upcoming months. Upcoming performances include an appearance in St.Kitts along with Freddie McGreggor on Saturday May 31 called Double Trouble. His tour of Europe for the first in four years commences in July and his debut performances in Japan and Australia are slated for the month of August.
But the summer does not end there for Bushman, as his Burning Bush Record Label in collaboration with Penthouse Records will be releasing a complete album honouring the Reggae Legend, Peter Tosh. The album bears the title Bushman Sings the Bush Doctor and is set to release in July.
Much is to be expected from the powerful showcase of lyrical prowess and stage presence that usually characterizes Bushman's performances.
For more information on Bushman's Music, visit here.